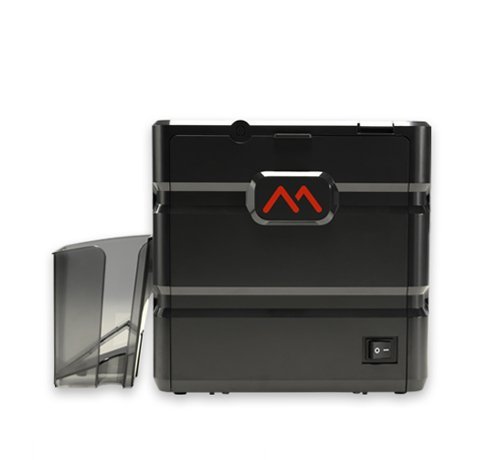 MC-L2
In-line, seamless lamination for desktop printers
The MC-L2 laminator module is the ideal solution to maximize the durability and the security of cards printed on the MC310 Direct-to-Card printer
What can the MC-L2 lamination printer achieve?
Easy to install and operate, the MC-L2 lamination module is also super fast, laminating both sides of the card in less than 20 seconds thanks to the simultaneous dual-side lamination printing process. It is easily connected to the Matica MC310 Direct-to-Card using a connection plinth – which also serves as a useful lockable storage unit for cards and cleaning kits.
Enhance security by laminating cards with the MC-L2
Pre-personalised cards are laminated with the MC-L2 by using a heat-sealing film. This film can be either be clear or contain holographic and other visual security elements (VSE) for enhanced protection. Matica has a wide range of both patch laminates and continuous laminate films within its comprehensive chromXpert consumables range. As well as generic holographic foils, fully customized versions are also available on request. In security terms, this lamination provides an extra layer of protection – crucial for government credentialing, for organizations with high-level sensitive security requirements and for everyday secure documents such as driving licenses.
Greater durability of laminated cards
Another important reason to laminate pre-personalised cards is to increase the durability and extend the life of the card, thanks to the enhanced mechanical and UV resistance of the lamination material. Resident cards, corporate physical access cards and campus cards for students / academic staff are constantly in use and are often exposed to sunlight as well as changes in temperature. By laminating them with Matica´s MC-L2 the card's life cycle can be increased to up to ten years. The MC-L2 is available in 3 different configurations to suit your card lamination application:
Single-sided lower cassette only
Single-sided upper cassette only
Dual-sided with both lower and upper cassettes
Key Strengths
Compact desktop design easily fits anywhere
High reliability
Up to 150 cards per hour
USB
These products might also be interesting for you…
Often used in the markets…