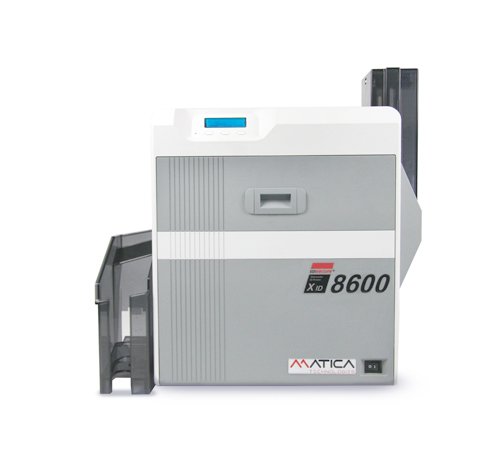 XID8600
Designed for ultra high-resolution secure card printing
Premium quality retransfer card printer
Matica's XID8600 is a premium quality printer, perfectly suited for the most demanding ID card programs requiring high definition and high security printing. Its 600dpi printhead delivers outstanding image quality combined with security printing, including microtext and covert UV printing to increase the number of Visual Security Elements (VSEs) on the card.
Built on the established XID series print engine, the XID8600 is durable and reliable. This, in combination with its high security print options, large capacity ribbons (1000 images) and its ability to print on durable card materials such as PC and ABS, make it ideal for high-volume secure government ID schemes, including driver's licenses and national ID cards.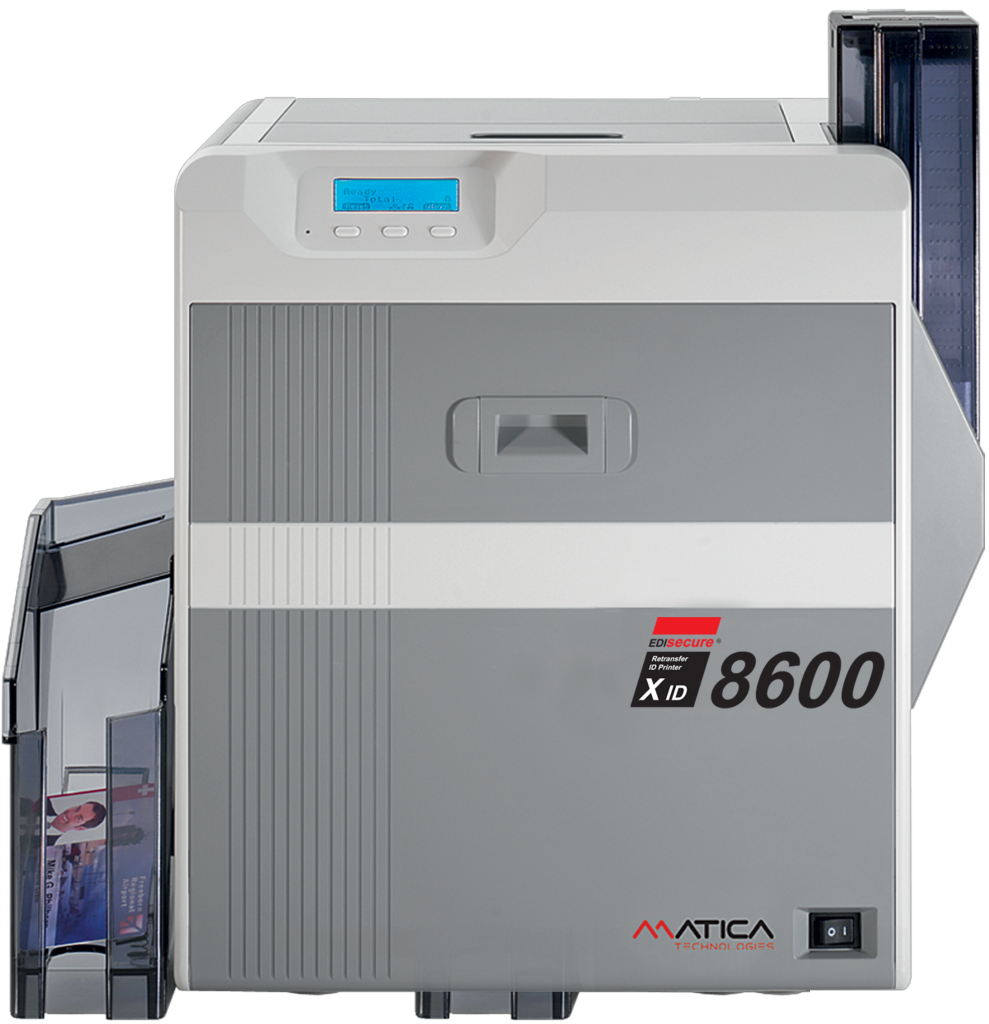 Key strengths
600 x 600 dpi dual-sided printing
200 card input feeder / output hopper
Robust and durable print engine
Consistent print quality on multiple card surfaces/materials
High capacity consumables (1000 images)
Security printing including microtext and UV
Up to 125 cards per hour
USB and Ethernet
Ideal for
Secure government ID card programs
Increased card security
Mid to high volume desktop issuance
Optional upgrades
Inline contact chip and contactless smart card encoding
Inline single or dual-sided lamination
Inline magnetic stripe encoding
Secure UV printing
Tailored, secure retransfer printing
The XID8600 can be customized according to a project's precise requirements. Both internal and external modules can be added to suit the required usage. Since sophisticated ID card applications normally require personalization on both sides of the card, the standard XID8600 model comes equipped for duplex printing, due to the factory-fitted built-in flipper module. A 200-card feeder and output hopper (for cards with a standard thickness of 0.76 mm) is similarly integrated.
For secure technology-based cards, an inline contact or contactless chip encoder, as well as a magnetic stripe encoder are also available. The XID8600 can be seamlessly connected to single or dual-sided inline lamination modules (Matica's ILM-LS or ILM-DS) to increase the durability and tamper-resistance of cards.
Retransfer dye sublimation
Watch the XID8600 video
Technical specifications
Layout
Method
Dye sublimation
Mode
Retransfer
Resolution
600dpi
Speed
Up to 120 cph (Single-sided)
Encoding
Magnetic stripe
ISO 7811 HiCo/LoCo
(factory fit only)

Smart card / contactless
Contact PC/SC, EMV compliant.
Smart contact: ISO 7816-2. Contactless: ISO14443A, B, ISO15693, MIFARE®, DESFire®, HID iClass®
Cards
Format & materials
ISO CR80
PVC, PVC-C, PET-F, PET-G, ABS, PC
Card thickness
0.25 mm – 1.02 mm
(10 mil – 40 mil)
(Hopper adjustment required)
Input hopper
200 cards (0.76mm)
Output stacker
100 card (0.76mm)
100 card reject bin
Connectivity
Connectivity
Ethernet
USB 2.0
Platform
Printer dimensions (L x W x H)
343 x 322 x 360 mm
(13.5″ x 12.6″ x 14.1″)
Weight
13.9 kg
(30.6 lbs)
(excluding optional built-in items)
Consumables
Related products
Markets