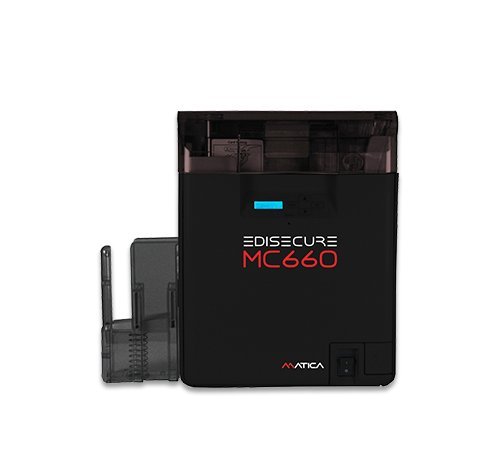 MC Retransfer Series
The new generation of ID card printers for secure applications
High quality retransfer printers with superior performance
Engineered to deliver newer, more innovative modules with an even better performance, aesthetically pleasing design and superb security levels, the MC Series offers exceptional print quality for an ID card printer.
Embedded in government, transport, education and academia, corporate sectors
The Matica EDIsecure™ MC series includes options for access cards, national IDs, employee IDs, driver licenses, transit passes and university cards, with the broadest range of smart card encoding, printing and lamination modules in the world for high resolution ID card printers.
Flash reminder: why are these retransfer printers, laminators and consumables innovative?
High resolution retransfer printers print the image for a secure card to a film ('retransfer film') before it's applied to the actual card. It first prints the image in reverse ('mirror image'), which goes directly onto a clear layer of film and then, the piece of film with the high resolution color image is fused onto the card's surface with heat and pressure ('thermal bonding').
The new MC660 is way faster than all others in the market and much more independent than its competition. It's not a hollow promise: this retransfer printer series really does ensure a higher performance with an exceptionally high print quality. It is further enhanced by high performance security features that protect the longevity of the card and the entire card issuance process.
Access to significant encoding options also make this series innovative. Choose a contact or contactless chip encoder, as well as a magnetic stripe writer. The 'short-edge' path makes the MC modules more compatible with third party modules and components for easy integration.
Going that extra mile – MC retransfer printers with outstanding security options
In times of uncertainty and data theft, the technology responsible for carrying and transferring information should also offer the critically important security features to ensure full data protection. Once the sole domain of government agencies, these security concerns extend to business and corporate worlds, which are now legally bound to be just as fastidious about data protection (especially following GDPR legislation). To comply with all the data regulation norms, the MC Series offers a "Ribbon Erase" feature to protect the private data that was printed in the cards, which carry a lot of personal information, including names and photos.
In the desktop card issuance world, the MC-L is the only laminator offering an option for autonomous operation, which adds more security to the issuance process.
Think high resolution and vibrant colors with extra resilience and protection against fraud and card tampering and you have the MC retransfer printer series. The optional laminator adds secure films or patches to the surface of the ID cards to protect the longevity of the cards' vibrant colors but crucially, it also adds visual security features such as standard or customized holograms.
Enjoy the world's best consumables
Investing in Matica's retransfer printer series automatically provides access to the safest ribbons in the world – can you ask for more?
The security ribbons and security options were designed following considerable consultation with organizations using the technology about their evolving requirements, which influenced the R&D behind MC Series of retransfer printer models and consumables.
Using Matica's internationally acclaimed brand of chromXpert consumables minimizes the risk of printed information being tampered with or stolen. New security ribbons are also available with the MC-Line (YMCKUv and YMCKSc), which provides the level of extra protection against manipulation and forgery that other consumables simply can't offer.
Products
Often used in the markets…